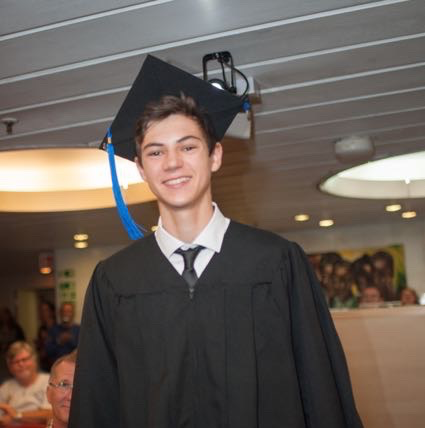 Last week in Toamasina, Madagascar, Wesley completed 12 years in our on board Mercy Ships Academy. Like his sister, he graduated with a class of three who each addressed the crew during their commencement ceremony.  Here's what Wesley said:
 I was six years old when I first heard about the slave trade. My mom likes to tell the   story of how I came home from school that day, confused,
 "Mom, do you know what they did to our people? They put us in boats and shipped us over to America. And then they made us work on their farms--and we didn't even get paid!"
"Wesley, do you think you're African-American?" my mom asked. 
"Well, of course I am.  I'm an American from Africa aren't I?"
 I was born 18 years ago in the United States. Two months later, as soon as I could get my passport, and literally a butt-load of injections, my parents brought me to Benin where I boarded the M/V Anastasis. You wouldn't recognize me back then because believe it or not -- I was quite the chubby baby. Since then, I've lived in ten different African nations. I've experienced both the rugged beauty of this great continent, as well as her heart-breaking struggles – all within the safety and strength of this diverse community of faith.
Looking back, it was an amazing childhood. I can honestly say that I'm glad my parents brought me to Africa and into the life-changing mission of Mercy Ships.  I wouldn't trade it for anything. But, I would be less than honest, if I didn't admit to you that I haven't always felt this way.
It was about two years ago and as usual tons of people were leaving the ship. Overnight. six of my closest friends were gone and our high school population decimated! I was done. I felt like I just couldn't do it anymore. So I told my parents I wanted to go back to America—there would be friends for me there—lots of them.
As you can imagine, our family had many intense conversations about what we should do. And in the end, my mom put it all on the line. " Let's pray about it, Wesley" she said.  We each bowed our heads and asked God to somehow make his will known to us. Should we stay or should we go? I felt the immense weight of it; our family's future was in my hands. 
After some time, my mom asked, "Wesley—tell us, what you think God is saying?" 
 "I think I'm supposed to go back to the ship. I think that is what he is saying to me."
And so, we rejoined the ship for [our first visit to Madagascar].
And guess what happened next?
Nothing.  
That's right. Absolutely nothing happened. There was no miraculous influx of new students my age. Everything was exactly as I feared it would be. And yet, over the next year, I learned one of the most important lessons of my life. As it turns out, circumstances I don't like, have very little to do with true joy and contentment.  
The best explanation I can find for this is in Romans 12 where in the Message version Paul writes this: 
"So here's what I want you to do, God helping you: Take your everyday, ordinary life—your sleeping, eating, going-to-work, and walking-around life—and place it before God as an offering. Embracing what God does for you is the best thing you can do for him. Don't become so well adjusted to your culture that you fit into it without even thinking. Instead, fix your attention on God. You'll be changed from the inside out. Readily recognize what he wants from you, and quickly respond to it. Unlike the culture around you, always dragging you down to its level of immaturity, God brings the best out of you, develops well-formed maturity in you."
When I chose  to go back to the ship, the circumstances I didn't like remained the same. But something did change—and that something was deep inside of me. I became more focused on the people around me. I found out that the little kid were worth investing in. And the older crew had a lot more to offer than I ever imagined. Paul was right—forget about the things around you that you can't change. Fix your attention on God and you'll be changed from the inside out.
Next September, I'll join my sister at Whitworth University, in Spokane, WA where I plan to pursue coursework in pre-physical therapy. Oh and, by the way, that thing about me being an African American?  Whitworth gave me a diversity scholarship for growing up on a ship in Africa. So that worked out pretty well for me.
In closing, I'd like to shine a light on the two coolest people I know: Susan and Gary Parker--or as I like to call them, mom and dad.  They both have amazing qualities and characteristics, making for very good offspring...
My mom is persevering, determined, and caring. If there is anything that needs to be done, whether it's planning a fun summer holiday, organizing the community meeting, or raising two teenage boys she gets it done with excellence. And if ever I have a problem, or don't know how to do something, she spends as long as it takes to help me find a solution.   
 I think you'll agree that my dad is an extraordinary surgeon, but he is also an extra-ordinary father. He is wise, kind, leads by example and lives to serve. He always asks if there is anything that I need help with, and is there to comfort me when I feel down or defeated. 
I am incredibly blessed to have these two great people in my life—as I am for each of you – Mr. Forrest, Academy teachers, my best mate, Bendik, fellow Academy students, and Africa Mercy Crew. 
Thank you all for being an important part of making this year, the best year of my life!