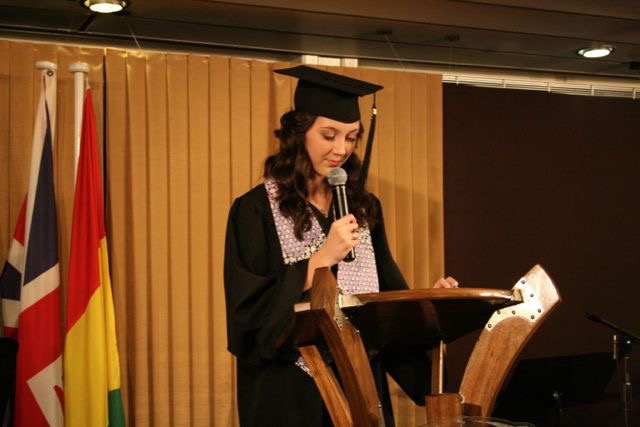 Carys graduated from high school on board the Africa Mercy in Conakry, Guinea last night. Each of the three graduates had the opportunity to address the crew.  And that, my friends, is the beauty of a small school; Everyone is a valedictorian… 
Here's what Carys had to say:
"I grew up here.  And without a doubt, my 18 years on a hospital ship in Africa will define me--even when I no longer live here. For just as every person's worldview develops out of their unique set of experiences, living in this place, with all of you, has profoundly formed and shaped me.  And I am deeply grateful for a lifetime in this community.
Africa Mercy Crew, know this:  We in the Academy observe your lives, and many of you inspire us to imitate you, as you imitate Jesus.  We thank you for the role models you have been to us.
I am also grateful for the privilege of growing up on this great continent.  I will not forget the beauty of Africa, and I especially love and appreciate her culture -- which is so similar, in many ways, to the culture of the Bible.  Living here has helped me to understand the stories of Jesus to a much greater degree.
For example, I have no difficulty imagining those four friends of the man sick with paralysis who couldn't get close to Jesus because of the crowds. And in their desperation to get help for their crippled friend, they climbed up on top of the house where Jesus was teaching, and actually tore away a portion of the roof, and lowered their paralyzed friend down in front of Jesus!
We've all seen various versions of that here, haven't we?
And I love how Jesus doesn't rebuke the friends for ruining the roof, or even for interrupting his teaching--but he was moved with compassion.  And instead of focusing on the damage, or the disruption, Jesus saw their faith, and said to the paralyzed man:  "I am saying to you:  Get up, take up your bed and go on your way.  And immediately the paralyzed man, got up, picked up his bed and went out in front of all of them."
And the people watching this glorified God!
I wonder what would have happened if, instead of responding with compassionate action, Jesus had focused on the gaping hole in the roof, or the nerve of those men interrupting his talk?  It would have been a very different ending for sure.
My time here has given me a heart for the poor, and eyes for those who are suffering.  I feel I've seen and experienced some of what Jesus saw.  Remember the times at our surgical selection days when people scaled the walls to get to us?  And then there was nine year old Edoh in Togo, with the giant, suffocating tumor. She was actually lifted up and passed over the heads of people, and over the steel gate to our doctors, by those waiting in line themselves to be seen.  They could see that Edoh needed help more than they did--and they responded with deep compassion. When I read the similar stories of Jesus, I am inspired and motivated to respond as he did.  And I will take this with me when I go.
One week from tonight, I will walk down the gangway for the final time and begin the next phase of my life -- I will be going to Whitworth University on the West Coast of the United States, where I plan to study history and theology and grow in my ability to communicate truth in ways that are culturally relevant.  There I know that I will face many new situations and unfamiliar locations.  I still find it hard to believe that this era of life on a mercy ship will soon come to a close.
How is it possible to sum up all that I have heard, all that I've seen, all that I've learned?  As I've reflected on this, it seems to me that all of the sermons, all of the answers, all of the advice -- at least all of the good advice -- everything, always, comes back to one thing.  And in the end, whether I'm here, or there--all that matters is this one thing.
I have a favorite line from that really scary film, The Village, by M. Night Shyamalan, where the Jonathan Walker character says this:
'The whole world is moved by love; it bows before it in awe.'
You see, all kinds of people, from all kinds of faith and even non-faith, intuituively know that love is the answer.  And it moves them to their core.
When Jesus was asked what the greatest commandment was, he put it this way:  'Love the Lord your God with all your heart and with all your soul and with all your mind.  This is the first and greatest commandment.  and the second is like it:  Love your neighbor as yourself.'
I've learned here that with love I can make a difference.  Even though I'm not going to be a doctor, or a dentist, or a nurse - or anything in the medical profession, I can still contribute to the way of Jesus.  And as great as those healing gifts are, I've discovered that love is the greatest goal. This means that whatever I end up doing in life -- my impact on others is deeply connected to how I do, what I do.
And so as I leave the safety and nurture of this place, I take with me that to love God and to love others is the main thing.  And I understand that my love of God is best expressed, and best made known through how well I love others.

There's an ancient African proverb that says this:  If you want to travel fast travel alone; But if you want to travel far, travel together.
I'm glad that we've traveled this road together.  I'm so grateful for you -- as well as many former crew, who have passed through my life and now have gone on to other things. 
By God's grace, may I always be faithful to keep the main thing, the main thing.
Thank you."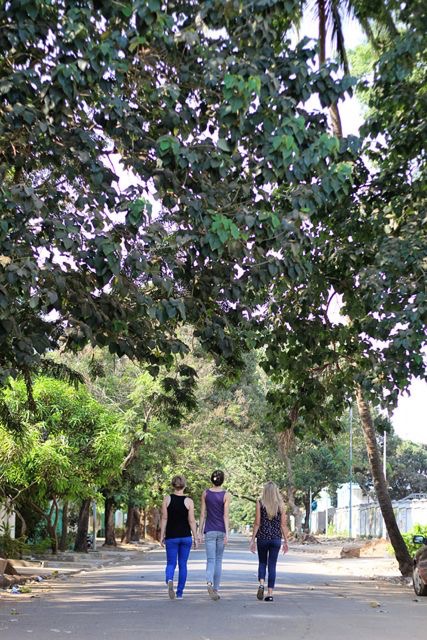 The Mercy Ships Academy Graduating Class of 2013 in Conakry, Guinea
                                                          Lara, Carys & Michelle
                                                            Photo:  © Ali Chandra