National Geographic: The Surgery Ship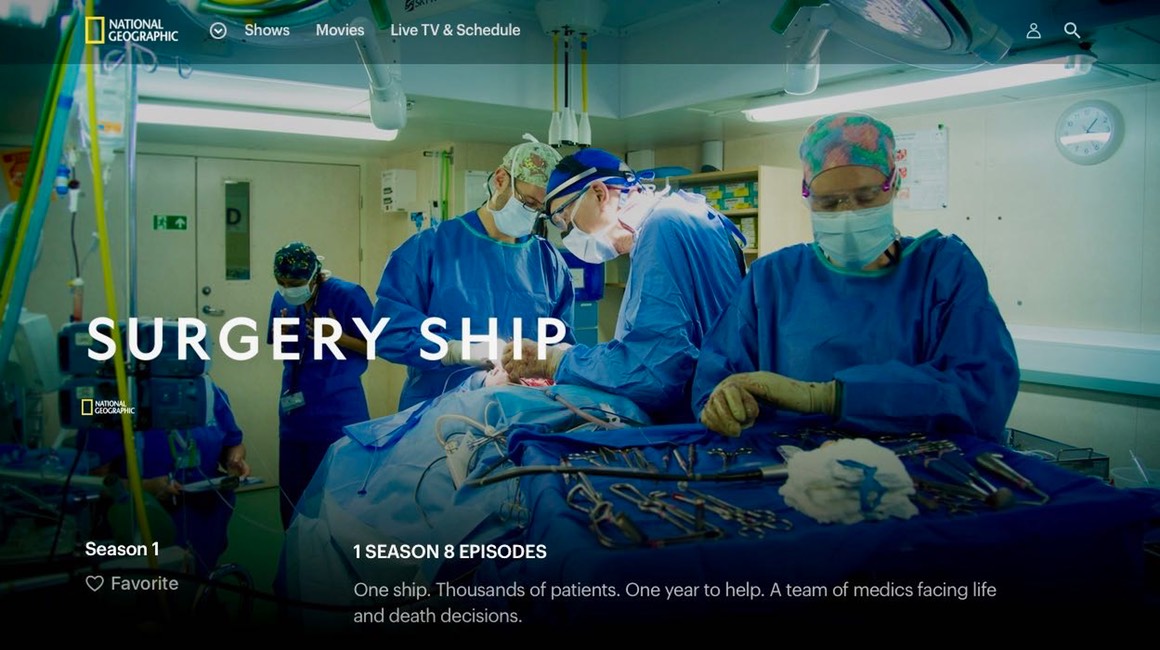 National Geographic recently released their eight-part part series filmed on board the Africa Mercy in Cotonou, Benin. Each episode is 40 minutes and you can watch a 30 second trailer here or find all 8 episodes here!  
From Ship to Shore...and Back Again!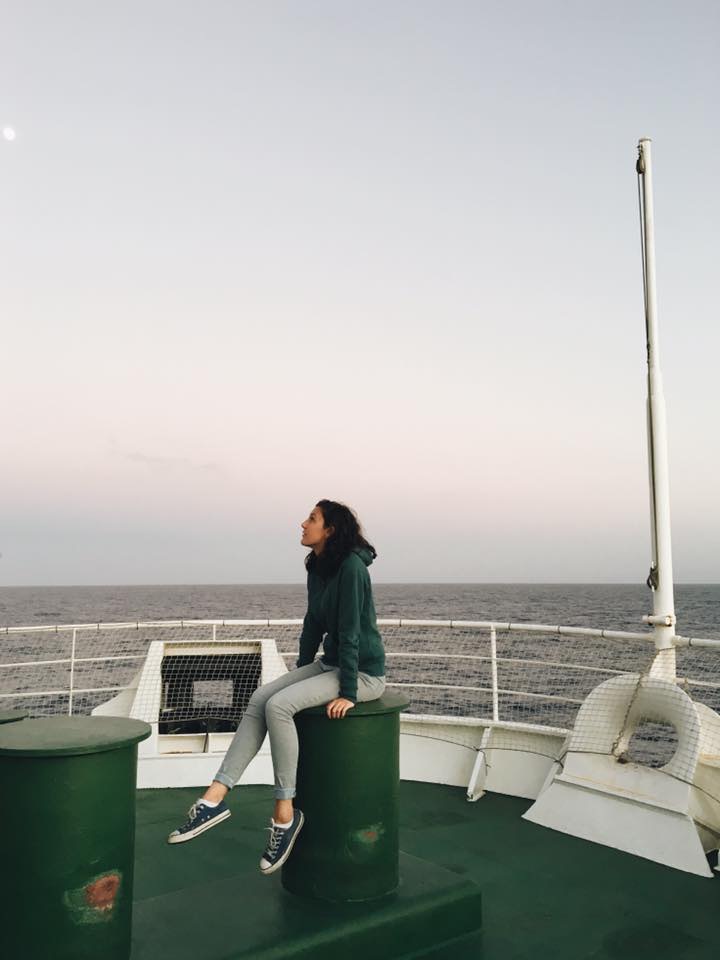 Our daughter, Carys, graduated from Whitworth University this past May with a B.A. in Theology and a minor in Psychology. By July she was back on the Africa Mercy where she grew up -- but this time as a full-fledged adult crew member. She's spending the year in Cameroon working as a Crew Chaplain. 
If you've ever wondered what it's like to live on a Mercy Ship with 400 crew from over 35 nations — you can watch her weekly vlog here!
The Graduate.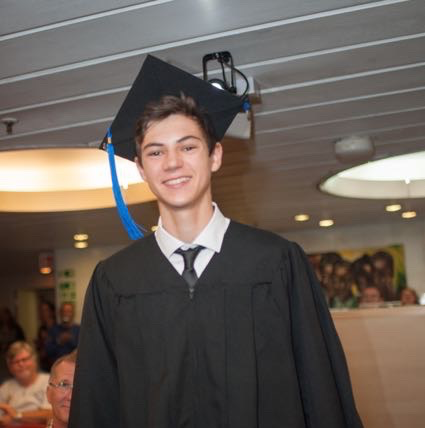 Last week in Toamasina, Madagascar, Wesley completed 12 years in our on board Mercy Ships Academy. Like his sister, he graduated with a class of three who each addressed the crew during their commencement ceremony.  Here's what Wesley said:
 I was six years old when I first heard about the slave trade. My mom likes to tell the   story of how I came home from school that day, confused,
 "Mom, do you know what they did to our people? They put us in boats and shipped us over to America. And then they made us work on their farms--and we didn't even get paid!"
"Wesley, do you think you're African-American?" my mom asked. 
"Well, of course I am.  I'm an American from Africa aren't I?"
 I was born 18 years ago in the United States. Two months later, as soon as I could get my passport, and literally a butt-load of injections, my parents brought me to Benin where I boarded the M/V Anastasis. You wouldn't recognize me back then because believe it or not -- I was quite the chubby baby. Since then, I've lived in ten different African nations. I've experienced both the rugged beauty of this great continent, as well as her heart-breaking struggles – all within the safety and strength of this diverse community of faith.
Looking back, it was an amazing childhood. I can honestly say that I'm glad my parents brought me to Africa and into the life-changing mission of Mercy Ships.  I wouldn't trade it for anything. But, I would be less than honest, if I didn't admit to you that I haven't always felt this way.
It was about two years ago and as usual tons of people were leaving the ship. Overnight. six of my closest friends were gone and our high school population decimated! I was done. I felt like I just couldn't do it anymore. So I told my parents I wanted to go back to America—there would be friends for me there—lots of them.
As you can imagine, our family had many intense conversations about what we should do. And in the end, my mom put it all on the line. " Let's pray about it, Wesley" she said.  We each bowed our heads and asked God to somehow make his will known to us. Should we stay or should we go? I felt the immense weight of it; our family's future was in my hands. 
After some time, my mom asked, "Wesley—tell us, what you think God is saying?" 
 "I think I'm supposed to go back to the ship. I think that is what he is saying to me."
And so, we rejoined the ship for [our first visit to Madagascar].
And guess what happened next?
Nothing.  
That's right. Absolutely nothing happened. There was no miraculous influx of new students my age. Everything was exactly as I feared it would be. And yet, over the next year, I learned one of the most important lessons of my life. As it turns out, circumstances I don't like, have very little to do with true joy and contentment.  
The best explanation I can find for this is in Romans 12 where in the Message version Paul writes this: 
"So here's what I want you to do, God helping you: Take your everyday, ordinary life—your sleeping, eating, going-to-work, and walking-around life—and place it before God as an offering. Embracing what God does for you is the best thing you can do for him. Don't become so well adjusted to your culture that you fit into it without even thinking. Instead, fix your attention on God. You'll be changed from the inside out. Readily recognize what he wants from you, and quickly respond to it. Unlike the culture around you, always dragging you down to its level of immaturity, God brings the best out of you, develops well-formed maturity in you."
When I chose  to go back to the ship, the circumstances I didn't like remained the same. But something did change—and that something was deep inside of me. I became more focused on the people around me. I found out that the little kid were worth investing in. And the older crew had a lot more to offer than I ever imagined. Paul was right—forget about the things around you that you can't change. Fix your attention on God and you'll be changed from the inside out.
Next September, I'll join my sister at Whitworth University, in Spokane, WA where I plan to pursue coursework in pre-physical therapy. Oh and, by the way, that thing about me being an African American?  Whitworth gave me a diversity scholarship for growing up on a ship in Africa. So that worked out pretty well for me.
In closing, I'd like to shine a light on the two coolest people I know: Susan and Gary Parker--or as I like to call them, mom and dad.  They both have amazing qualities and characteristics, making for very good offspring...
My mom is persevering, determined, and caring. If there is anything that needs to be done, whether it's planning a fun summer holiday, organizing the community meeting, or raising two teenage boys she gets it done with excellence. And if ever I have a problem, or don't know how to do something, she spends as long as it takes to help me find a solution.   
 I think you'll agree that my dad is an extraordinary surgeon, but he is also an extra-ordinary father. He is wise, kind, leads by example and lives to serve. He always asks if there is anything that I need help with, and is there to comfort me when I feel down or defeated. 
I am incredibly blessed to have these two great people in my life—as I am for each of you – Mr. Forrest, Academy teachers, my best mate, Bendik, fellow Academy students, and Africa Mercy Crew. 
Thank you all for being an important part of making this year, the best year of my life!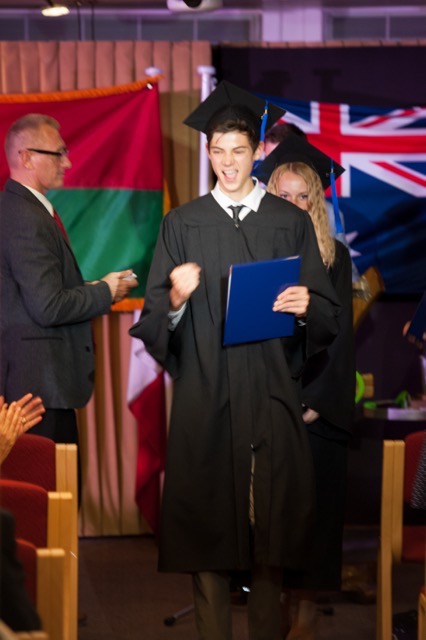 Sambany.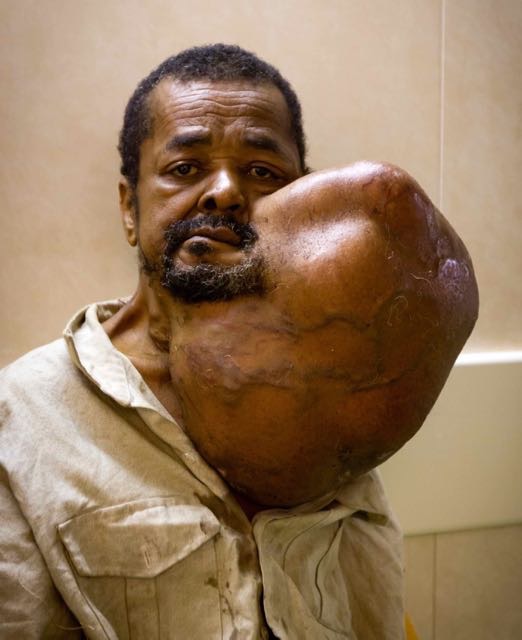 Twenty years ago, nestled in the mountains of Madagascar in a village so remote it takes three days from the nearest road to reach it on foot, Sambany, a subsistence- rice farmer, remembers when he first noticed a small lump growing on his neck. 
One of the most disheartening things we hear about from our patients is the not-so-infrequent scenario of  how they manage to scrape together just enough money to get an x-ray or some kind of diagnosis— but at that point all of their meager resources are completely depleted—meaning they know what's wrong, but have no way to deal with it. Sambany was one of those people. Early on, when the lump was still relatively small, he managed to make the long and arduous journey to a hospital — only to be told that he didn't have enough money for treatment. But not to worry, the hospital didn't have a specialist surgeon anyway... 
Sambany earns the equivalent of about $1 per day and like so many others in Madagascar, he needs access to safe, affordable, and timely surgical care. Instead, 20 years of tumor-growth later, the mass was about twice the weight of the average human head! 
Sambany heard about Mercy Ships on the radio and sold his rice field to get enough money to travel to the port city of Toamasina, where we have been docked for the past almost two years. Once on board the Africa Mercy he underwent a truly life-threatening, 12-hour operation, requiring 17 units of blood and three months of post-operative care to remove what had become a 7.5 kg (16.5 pound) tumor.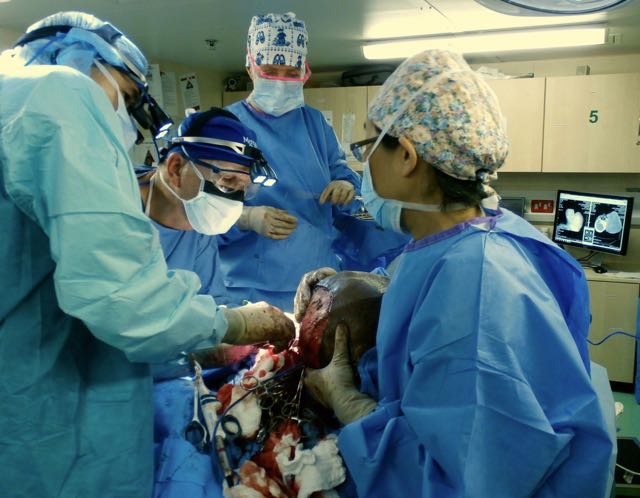 My husband, Gary (maxillofacial surgeon - center) and his life-long friend John Rowland (ENT/head and neck surgeon - left) work together with their team to remove one of the largest tumors they've ever seen.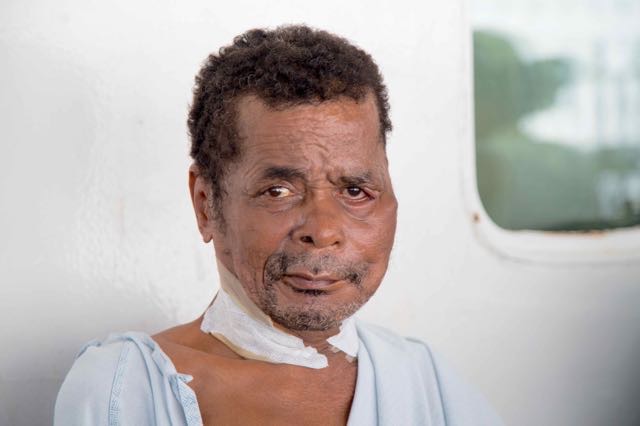 See video footage of Sambany's initial story here.  And then travel back to his village three months later with some of our crew and witness first-hand the reaction of his wife and friends when he arrives home tumor-free!
What we do.
Click on the photo for a  two minute overview of our maxillofacial program—just one aspect of what we do on board the Africa Mercy.
France 24 on Location in The Congo.
Click on the photo and check us out on France 24's "Down to Earth."  
This is the English version, but if you prefer, it's also out there in French and Arabic...
An Interview with Gary.
Next week journalist and former White House Press Secretary, Dana Perino, will visit the Africa Mercy on location in the Congo. As it turns out, a college classmate of mine, Sam Ebersole, taught Dana at Colorado State. Unfortunately, I won't be on board to impress Dana with this proof of how small the world really is, as I'm in the US with our daughter, Carys, getting her ready to move into the dorms at Whitworth University.  This momentous event will take place in just nine days! 
Gary and Wesley returned to the ship in Pointe Noire a few weeks ago. Shortly after they arrived, a small flood occurred -- apparently the toilet went into free-flow -- and the boys now get to use the public bathroom a few decks down while some spare parts are located. Yeah, I'm really glad I'm here and not there.  
As a lead in to Dana's upcoming visit to the Africa Mercy, her blog is featuring a weekly piece on various crewmembers. You may read her latest post -- an interview with Gary here.  
Keeping the Main Thing the Main Thing.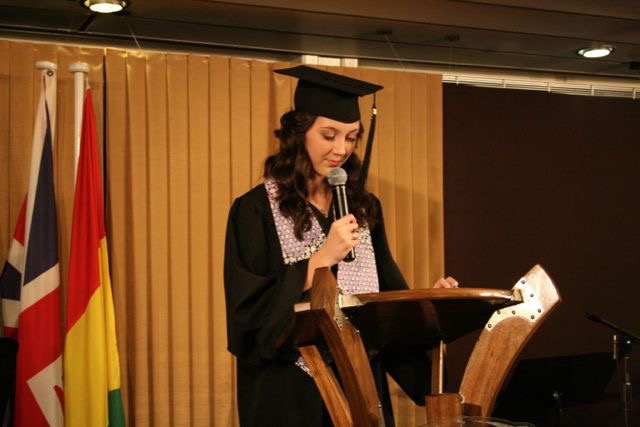 Carys graduated from high school on board the Africa Mercy in Conakry, Guinea last night. Each of the three graduates had the opportunity to address the crew.  And that, my friends, is the beauty of a small school; Everyone is a valedictorian… 
Here's what Carys had to say:
"I grew up here.  And without a doubt, my 18 years on a hospital ship in Africa will define me--even when I no longer live here. For just as every person's worldview develops out of their unique set of experiences, living in this place, with all of you, has profoundly formed and shaped me.  And I am deeply grateful for a lifetime in this community.
Africa Mercy Crew, know this:  We in the Academy observe your lives, and many of you inspire us to imitate you, as you imitate Jesus.  We thank you for the role models you have been to us.
I am also grateful for the privilege of growing up on this great continent.  I will not forget the beauty of Africa, and I especially love and appreciate her culture -- which is so similar, in many ways, to the culture of the Bible.  Living here has helped me to understand the stories of Jesus to a much greater degree.
For example, I have no difficulty imagining those four friends of the man sick with paralysis who couldn't get close to Jesus because of the crowds. And in their desperation to get help for their crippled friend, they climbed up on top of the house where Jesus was teaching, and actually tore away a portion of the roof, and lowered their paralyzed friend down in front of Jesus!
We've all seen various versions of that here, haven't we?
And I love how Jesus doesn't rebuke the friends for ruining the roof, or even for interrupting his teaching--but he was moved with compassion.  And instead of focusing on the damage, or the disruption, Jesus saw their faith, and said to the paralyzed man:  "I am saying to you:  Get up, take up your bed and go on your way.  And immediately the paralyzed man, got up, picked up his bed and went out in front of all of them."
And the people watching this glorified God!
I wonder what would have happened if, instead of responding with compassionate action, Jesus had focused on the gaping hole in the roof, or the nerve of those men interrupting his talk?  It would have been a very different ending for sure.
My time here has given me a heart for the poor, and eyes for those who are suffering.  I feel I've seen and experienced some of what Jesus saw.  Remember the times at our surgical selection days when people scaled the walls to get to us?  And then there was nine year old Edoh in Togo, with the giant, suffocating tumor. She was actually lifted up and passed over the heads of people, and over the steel gate to our doctors, by those waiting in line themselves to be seen.  They could see that Edoh needed help more than they did--and they responded with deep compassion. When I read the similar stories of Jesus, I am inspired and motivated to respond as he did.  And I will take this with me when I go.
One week from tonight, I will walk down the gangway for the final time and begin the next phase of my life -- I will be going to Whitworth University on the West Coast of the United States, where I plan to study history and theology and grow in my ability to communicate truth in ways that are culturally relevant.  There I know that I will face many new situations and unfamiliar locations.  I still find it hard to believe that this era of life on a mercy ship will soon come to a close.
How is it possible to sum up all that I have heard, all that I've seen, all that I've learned?  As I've reflected on this, it seems to me that all of the sermons, all of the answers, all of the advice -- at least all of the good advice -- everything, always, comes back to one thing.  And in the end, whether I'm here, or there--all that matters is this one thing.
I have a favorite line from that really scary film, The Village, by M. Night Shyamalan, where the Jonathan Walker character says this:
'The whole world is moved by love; it bows before it in awe.'
You see, all kinds of people, from all kinds of faith and even non-faith, intuituively know that love is the answer.  And it moves them to their core.
When Jesus was asked what the greatest commandment was, he put it this way:  'Love the Lord your God with all your heart and with all your soul and with all your mind.  This is the first and greatest commandment.  and the second is like it:  Love your neighbor as yourself.'
I've learned here that with love I can make a difference.  Even though I'm not going to be a doctor, or a dentist, or a nurse - or anything in the medical profession, I can still contribute to the way of Jesus.  And as great as those healing gifts are, I've discovered that love is the greatest goal. This means that whatever I end up doing in life -- my impact on others is deeply connected to how I do, what I do.
And so as I leave the safety and nurture of this place, I take with me that to love God and to love others is the main thing.  And I understand that my love of God is best expressed, and best made known through how well I love others.

There's an ancient African proverb that says this:  If you want to travel fast travel alone; But if you want to travel far, travel together.
I'm glad that we've traveled this road together.  I'm so grateful for you -- as well as many former crew, who have passed through my life and now have gone on to other things. 
By God's grace, may I always be faithful to keep the main thing, the main thing.
Thank you."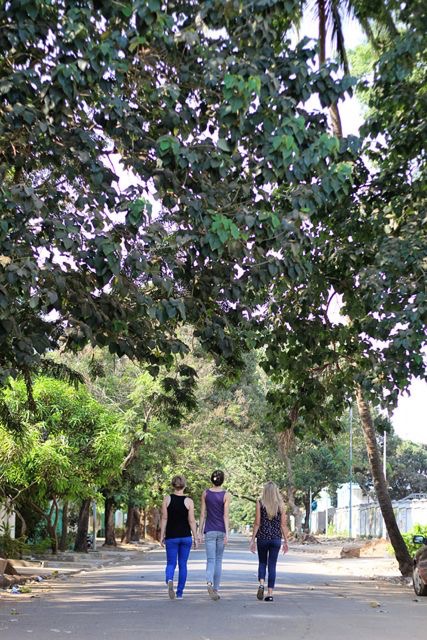 The Mercy Ships Academy Graduating Class of 2013 in Conakry, Guinea
                                                          Lara, Carys & Michelle
                                                            Photo:  © Ali Chandra 

The Starfish & a New Pair of Lips.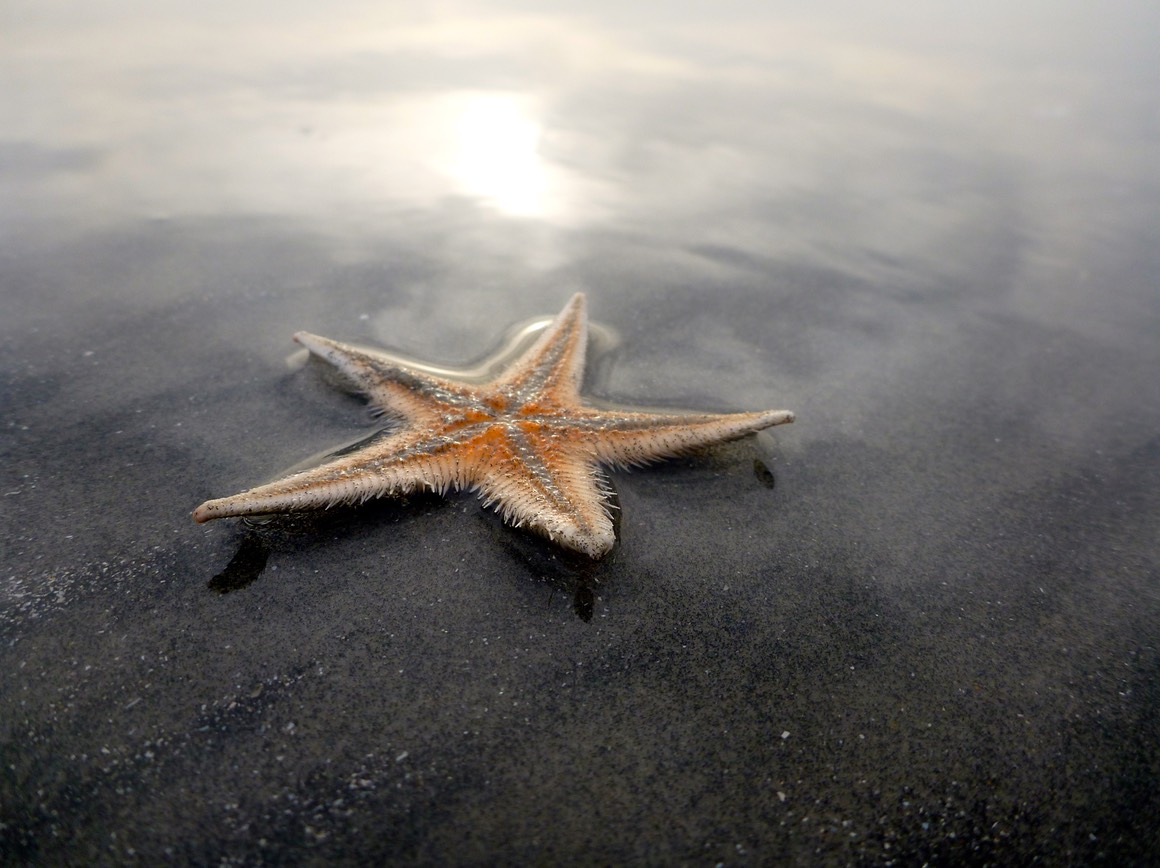 Most everybody has heard one telling or another of what's known as the starfish story. But I have my own version:  
This past December we spent some time at the beach with friends. And one afternoon as Carys and I walked along the shoreline, we came upon a stretch of sand littered with starfish. The tide had receded leaving them high and dry and as the story goes, if you leave starfish to bake in the sun they won't survive.
So, Carys began to throw the starfish back into the sea one, by one, by one.  And in the original story at some point, an old man, who had lived long and gathered much wisdom would amble by, and upon observing her efforts, say something like this:  "You know, there's really no point to what you are doing. No matter how many starfish you return to the sea, and no matter how long you're willing to persevere, you will never get to them all. Don't waste your time, because in the end it just won't matter."
And without missing a beat, as she bent to pick up one more starfish, Carys would say to the wise old man, "Well sir, with all due respect, it matters to this one."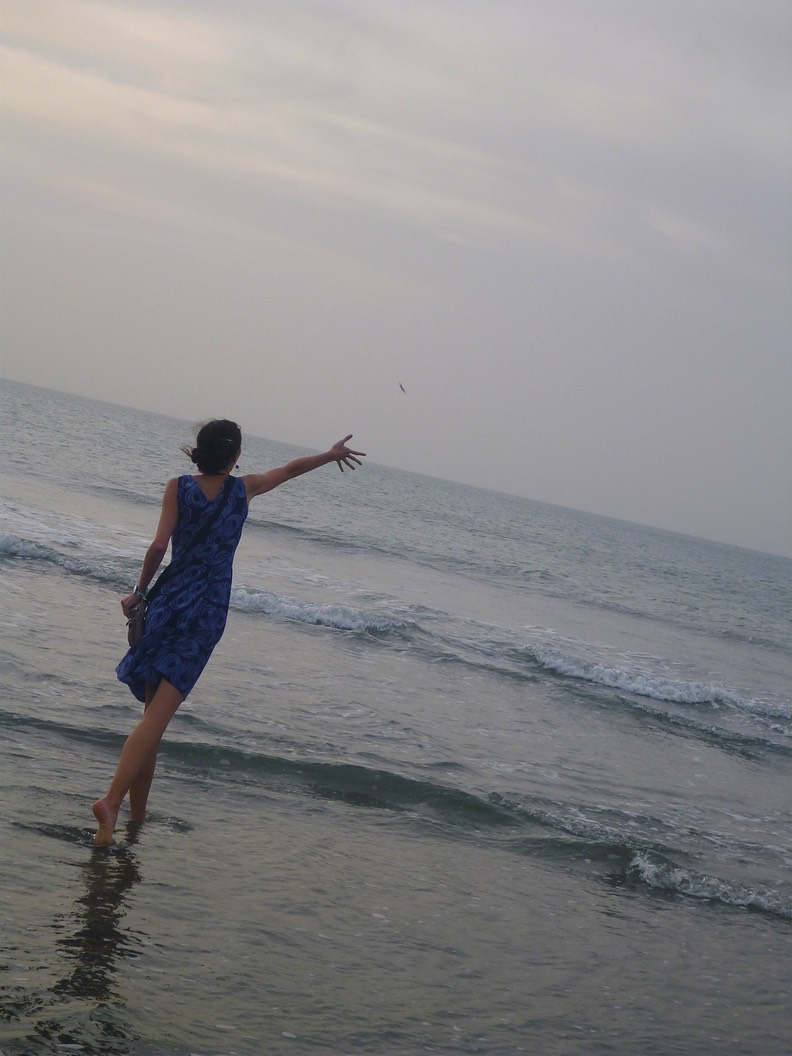 I don't know about you, but at one time or another, I've identified with each character in this story. 
Sometimes I'm Carys--the one rescuing the starfish. 
Many more times though, I find I'm the starfish needing to be rescued.

But I'd be less than honest, if I didn't admit that there are times when I'm more like the cynical old man--kind of burned out on the compassion business.
Because, there's no end to the relentless, crushing need in nations where the majority survive on less than $2 per day. There's no distance between "us" and "them." The poor have a face; they have a name. But no matter how much we do for Mamadou, or give to Fatou, or help Aminata, it's only and always just one drop in an ocean of need.
And sometimes, I just want to turn away and pretend I didn't see.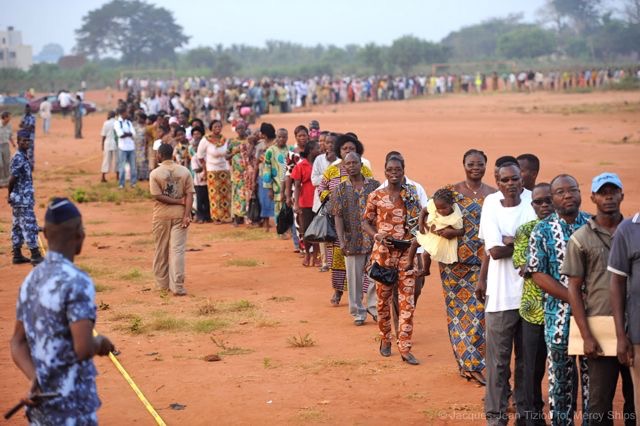 Africa Mercy Surgical Selection Day | Lomé, Togo
                                             © Jacques-Jean Tiziou for Mercy Ships

Then along comes British anaesthetist Dr. Keith Thomson--my role model in moving beyond the limits of what I think I'm able to do, or what the confines of my job require that I do. Being around him has opened up a whole new potential world of what I could do -- maybe, even what I was created to do.  
You see, for Dr. Keith, anesthesia is his day job. He gets involved with all kinds of people, in all kinds of situations. It might be the Beninoise patient whose cleft lip we repaired, but whose parents couldn't pay his school-fees, or the Togolaise taxi driver who was looking for a micro loan to start up a small business. And then there was the Liberian church pastor who needed a toilet for his church building -- and subsequently named the new toilet after Keith! Once it was a woman in Sierra Leone who would have died in childbirth because she lacked the $100 needed for a c-section...
He calls them his Starfish.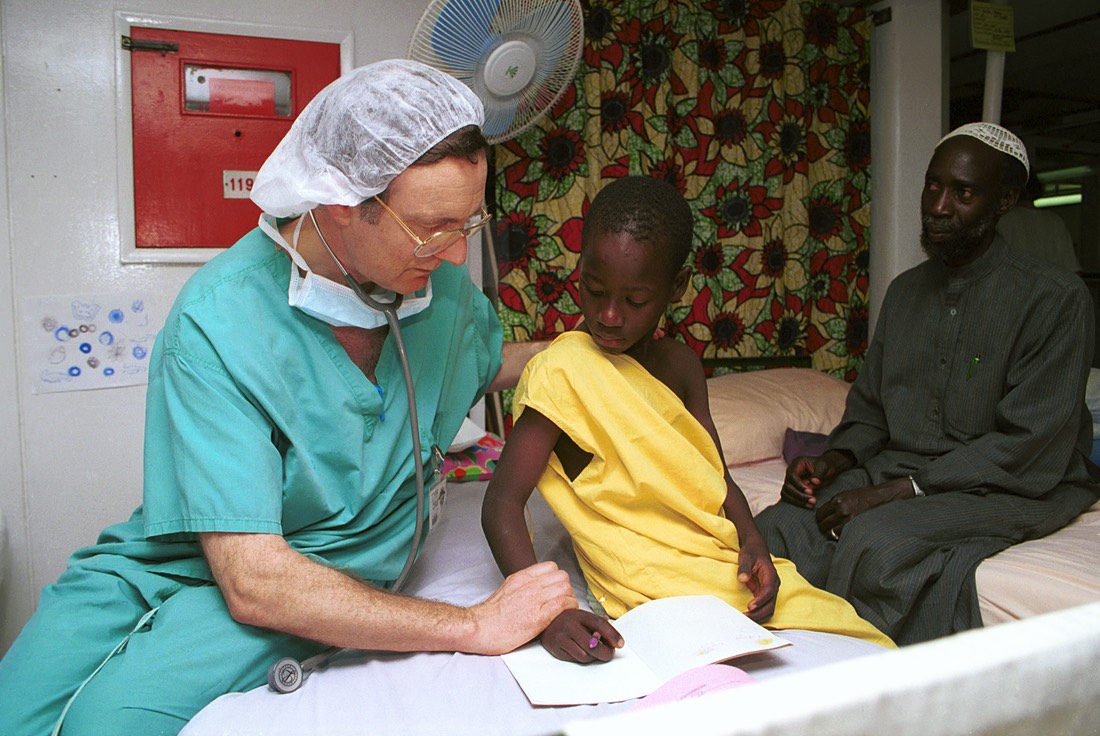 In 2008 the Africa Mercy was back in post-war Liberia for the second time. After lunch on Easter Sunday, Dr. Keith asked if I would accompany him to visit a patient at JFK Hospital in Monrovia. A few days earlier he had observed surgery on Mary, a newborn who had a life threatening condition. As he watched, he noticed that the local staff member was struggling to intubate and Mary was becoming increasingly blue and her heartbeat was slowing. Dr. Keith offered to help. He quickly intubated Mary and then handed her back to the anaesthetic nurse and the surgical team continued.  The operation was successful and we were on our way to JFK because Dr. Keith, who was now referring to Mary as "his baby," wanted to help her mom with the hospital bill.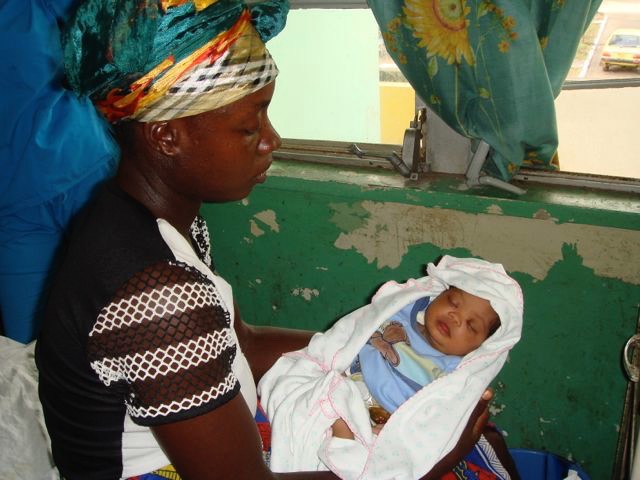 Photo:  © Keith Thomson
As we we chatted with Mary's mom, Dr. Keith noticed a little girl with a bandaged mouth a few beds away and before going off to investigate told me that he had heard about her on the ship. A crewmember named Betty had been trying to get her seen on board, but our surgical lists were so full that there didn't seem to be any chance of that.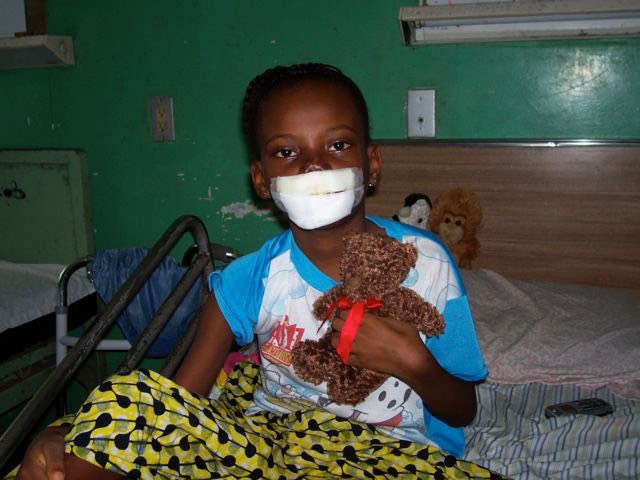 Photo:  © Keith Thomson

      Eight year old Blessing was perfectly healthy just weeks before.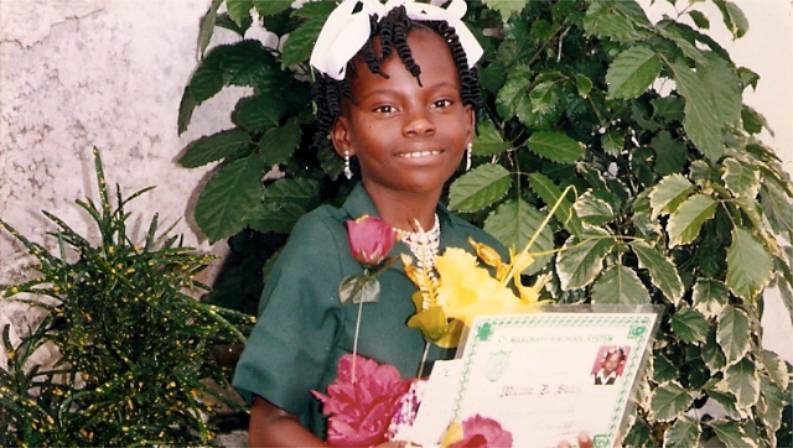 Then one day on her way home from school, she tripped and fell into a ditch.  She cut her knee and it became seriously infected -- which led to sepsis, and this created the environment for a disease called noma to take hold. 
The result was devastating.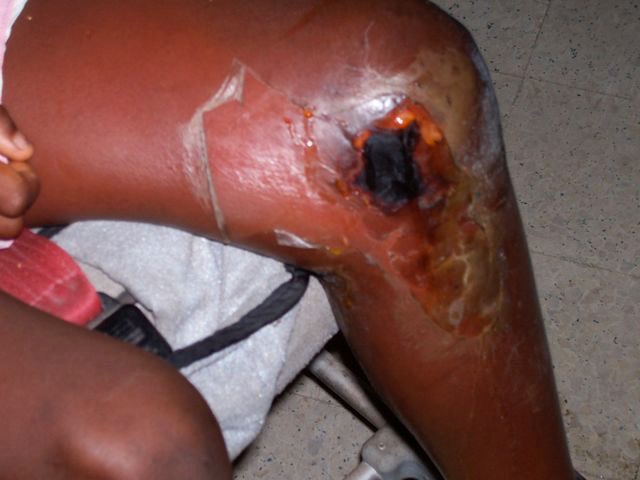 Photo:  © Betty Mann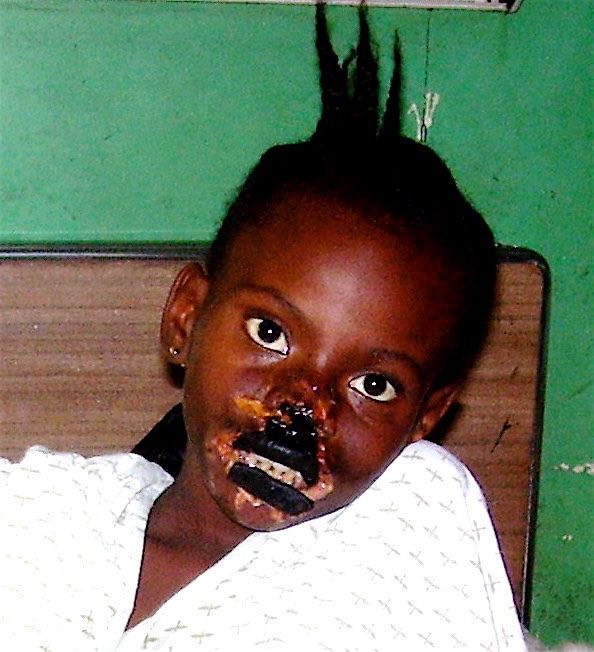 Photo:  © Betty Mann
And what happened next is too awful to show you. Known locally as the "melting disease," over the space of a few weeks' time, Blessing's lips and the columella of her nose necrosed and fell away leaving a raw open gash across her face.
Dr. Keith introduced himself to Blessing's mom, Martha, and asked permission to take some photos to bring back to the ship. He then turned and said,
"Susan, Blessing is your starfish. Your husband and his team can change the course of this little girl's life, but there's no space on the surgical list.  You be her advocate."
Back at the ship, we showed the photos to Gary -- and indeed he did say, "No."  He was very sorry and wished he could help, but there was simply no wiggle room in the schedule. He and the hospital team were maxed out. 
But at JFK hospital Blessing's mom, Martha, was praying.
And somehow, I don't know how, a little crack in the schedule opened up and 12 days later, Blessing was transferred to the Africa Mercy in a Liberian ambulance. A coincidence?  Perhaps. But I tend to agree with Sir Winston Temple who liked to say, "Coincidences seem to happen much more often when I pray."
Over the next nine months, Blessing had a series of four surgeries to create a new pair of lips, using a flap from her neck. A skin graft was also placed on her wounded knee.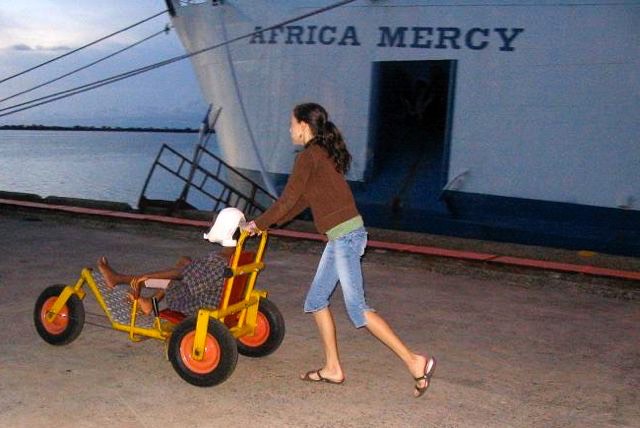 Carys was Blessing's faithful companion through the months of surgery and recovery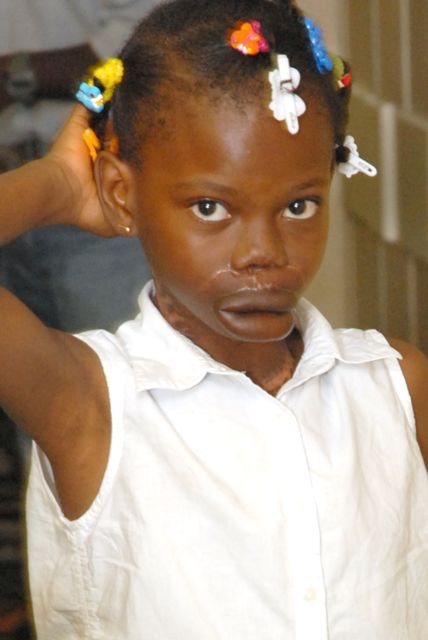 Blessing, just before we sailed from Liberia.  
                                                        ©  Mercy Ships International
After the ship sailed, we kept in touch with Martha and Blessing and two years later they traveled to the ship in Sierra Leone to have further revision of her new lips. And let's just say that it's a long, slow process to make lips look like lips--when all there is to work with is a flap from the neck!  
By now Blessing's had another problem.  Her leg had significantly contracted, causing her great difficulty in walking. Unfortunately the hoped for orthopedic consult was not possible as we had no orthopedic surgeons on board at the time.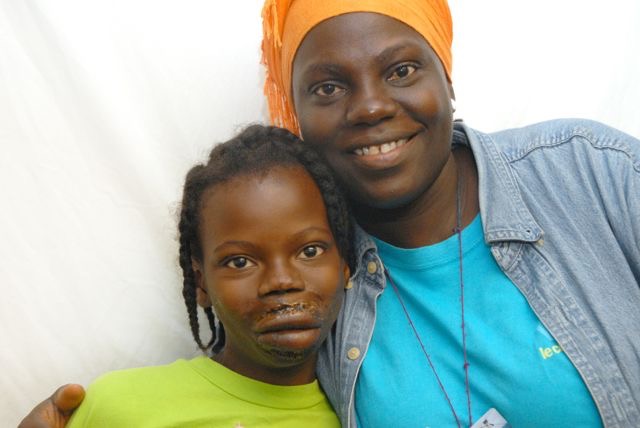 Blessing and her mom, Martha -- who never stopped praying and never gave up.      
                                   Freetown, Sierra Leone ©  Mercy Ships International
Martha continued to call and write over the next year and a half, reminding me that Blessing's crippled leg was a huge problem, "Please don't forget about us," she urged. 
This past November, a way was found to once again squeeze Blessing into our surgical program here in Guinea, and Blessing and Martha excitedly made their way to the ship from Liberia. 
And, finally, after four years of walking back and forth to school dragging her crippled leg, Blessing had her knee joint straightened and reinforced with a surgical plate by Mercy Ships' orthopedic surgeon, Dr. Frank.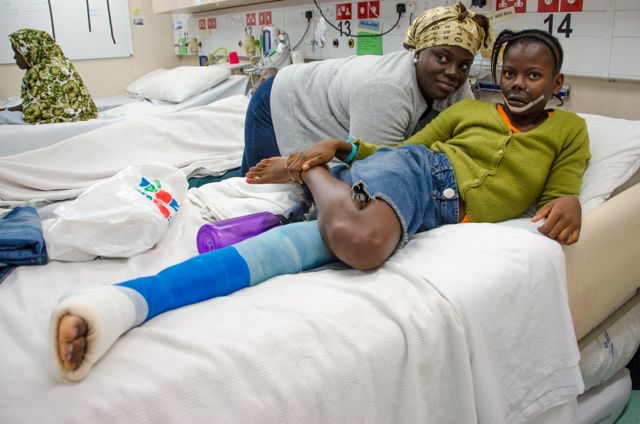 Africa Mercy Hospital Ward | Conakry, Guinea.            
                                           Photo: © Debra Bell for Mercy Ships
Martha and Blessing were with us for three months in Guinea as the recovery process and physical therapy are quite lengthy for this procedure.  Gary took the opportunity to have another go at her lips, and here she is looking beautiful with her leg straight, ready to return home.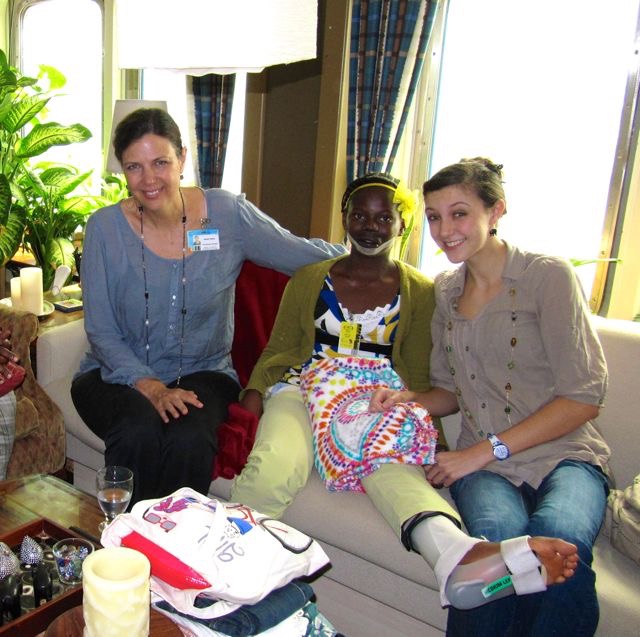 Carys who is off to university next Fall says goodbye to her childhood friend.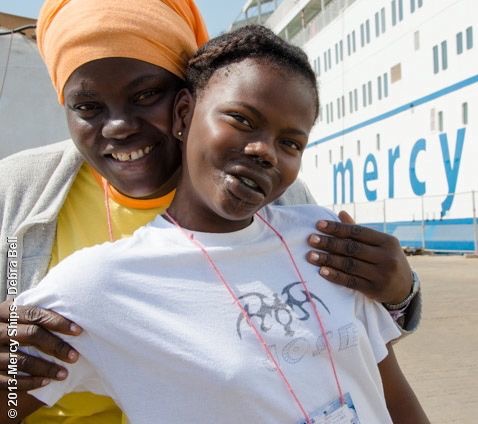 Photo: © Debra Bell for Mercy Ships     
So, the next time the cynical old man offers you his sage advice,  "You know, there's really no point to what you are doing. No matter how many starfish you return to the sea, and no matter how long you're willing to persevere, you will never get to them all. Don't waste your time, because in the end it just won't matter."
You just tell him, "Well sir, with all due respect, it matters to this one."
The Love Boat.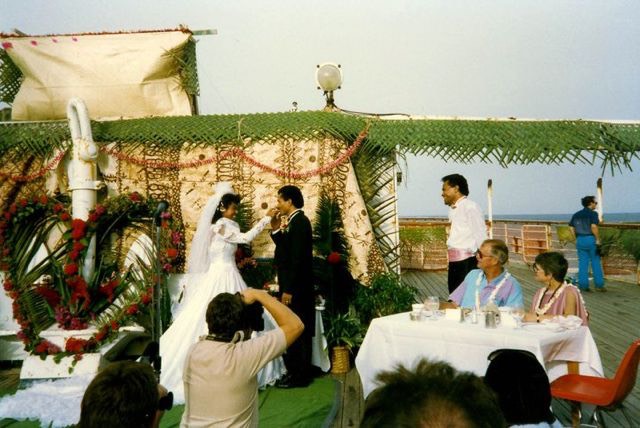 Couple #67 from Fiji on board the first Mercy Ship, m/v Anastasis
Some call it the Love Boat--and not without reason for there are over 300 "documented" couples who met and married as a result of their time on board a mercy ship. There are even patients who have gone on to get married because they no longer have a cleft lip or a missing nose. But today I'm taking this Love Boat motif to the next level.
Meet the Professor--my long-suffering Guinean French teacher. It's embarassing for me to admit that I've lived in and out of French speaking West Africa since 1990 and still can't speak French, but there it is. The Professor, who gave it his best shot the last time we were here, tells me that I'm making a religion out of being a beginner and it's high time I move on. But I just can't deal with all those verb acrobatics and don't get me started on the irregularities or the spelling. What is up with the spelling? 
But I digress. In addition to Carys and me, the Professor tutors two other crew members.  But today classes are canceled because he's getting married! 
He lost his first wife to illness eight years ago and hasn't been able to re-marry because the non-negotiable bride price is too steep. I encouraged him to just hire a maid (for cooking and cleaning purposes only, of course) but he said that it isn't proper for a Muslim man to have a woman in the home who is not a family member. 
So here's the deal. As mentioned, there are several of us being tutored--and he's really good, so this is not an act of charity. (Ok, maybe he's not good enough to move me on to intermediate, but then I don't think that is his issue.) Anyway, unemployment, inflation rates, and political instability being as they are--there isn't much of a market ashore for a French Professor--even one who trained in Paris! And so the Professor found himself in debt to various family members and struggling to pay the rent and keep his three children fed and cared for.
But all that changed when a big white ship arrived in port and four die-hard anglophones decided it was high time to step up their French communication skills.  In the five months he's taught us, he paid off his debt, fixed up his flat, and the elders recently completed negotiations on a suitable marriage partner for him!
As he was preparing to leave yesterday, he leaned across the table and confided, "You know, it's all gift. Everything that we receive is a gift from God. Before the ship came I prayed and prayed that God would help me to find work so that I could afford a wife. I know that he sent you people here to help a lot of other Guineans, but I feel like you are here just for me! God is good and I see my wedding tomorrow as a gift straight from Him!"
I agree with the Professor. It is all gift. And what a gift his skill and friendship have been to me--conjugations and wacky spelling notwithstanding.  ...And the Love Boat adds another notch to her belt with couple number 339!